Satellite position : 56E

Price per day: 0,11€

Price per month: 3,30€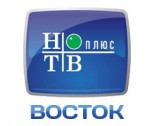 NTV Plus Vostok is a new offer from the large NTV holding.
For more than 10 years history, NTV brand has been engrained in the market of satellite digital TV becoming a symbol of high quality.
Coverage map of the satellite TV operator is really impressive.
NTV Plus signal is even transmitted over the Siberia area!
TV signal is broadcasted using Bonum-1 satellite allowing to reach a high level of quality and purity of satellite signal for problem-free transmission.
Currently, NTV company has developed several major offers for its audience based on the preferences of various age categories TV-viewers.
The NTV package contains the most popular high rated channels and TV-shows.
The NTV Plus Vostok package includes 50 channels of various categories.
Among them, the popular channels are available such as Discovery, National Geographic as well as music, child, sport channels, etc.
Also, a viewer will get access to the following channels produced by the NTV holding:
"PREMIERE", "KINOHIT", "KINOCLUB", "NASHE NOVOE KINO", "NTV PLUS SPORT VOSTOK", NTV PLUS SPORT ONLINE", "NTV PLUS FOOTBALL", "NTV PLUS TENNIS", "NTV PLUS SPORT KLASSIKA" and "SPORT PLUS".
All channels are transmitted with stereo-sound.
Cardsharing service allows the viewers to get access to all benefits of the NTV Plus Vostok package without restrictions and with a minimum subscription fees.
Get connected using profitable cardsharing program right now!